Product Details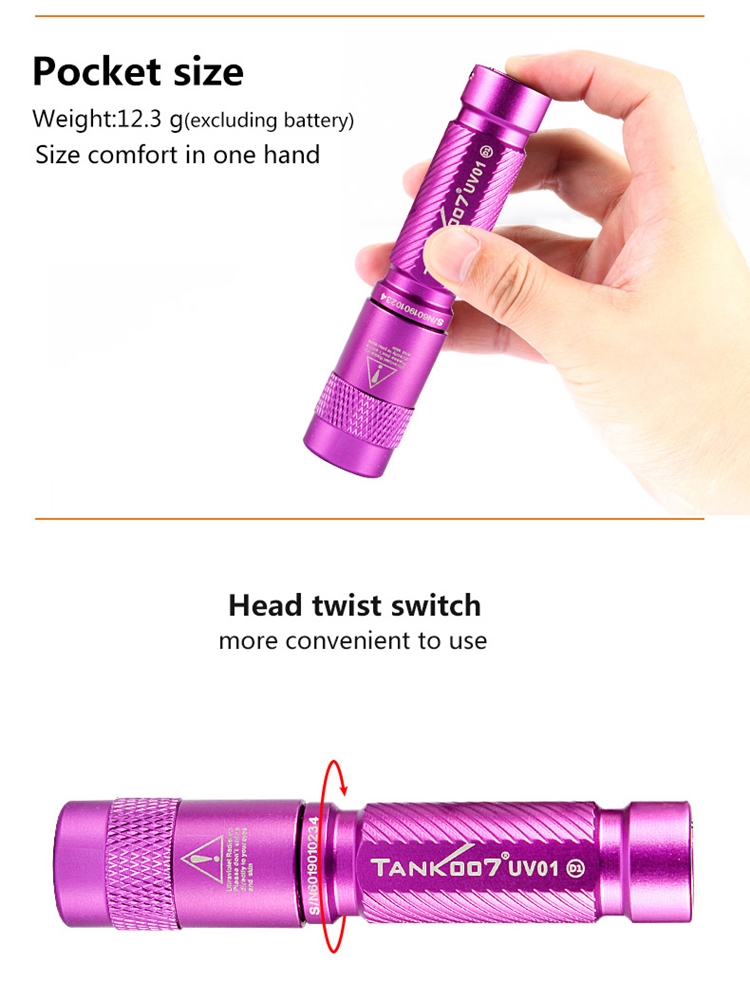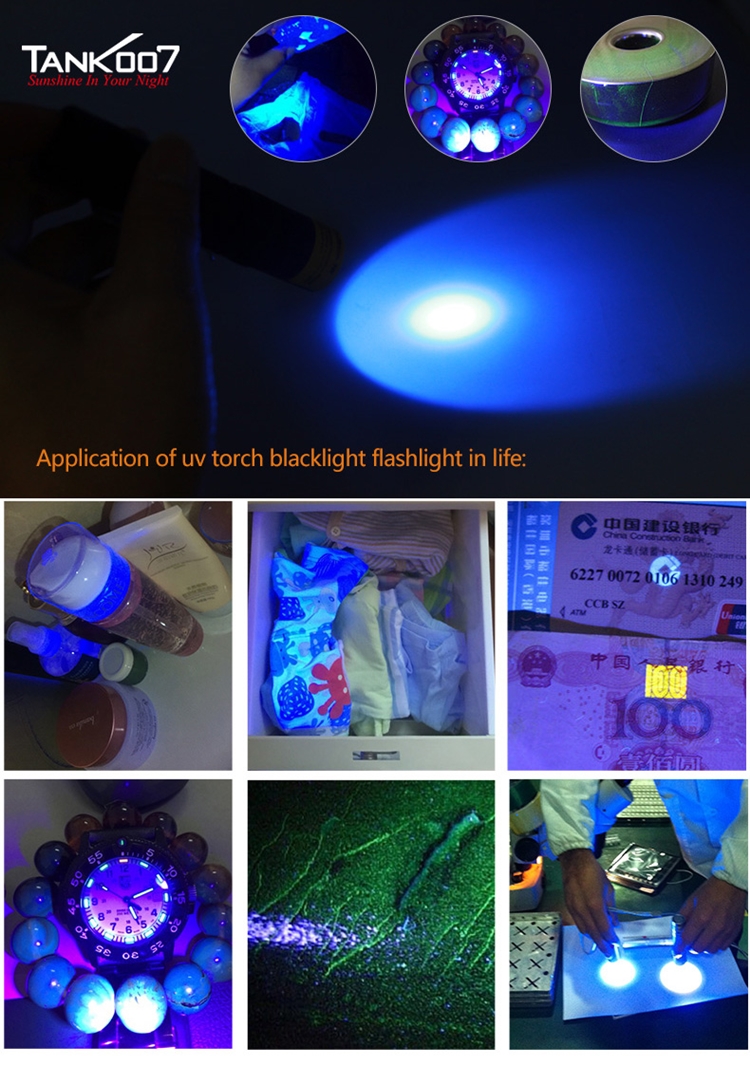 UV01-365nm Mini Portable UV Flashlight
| | |
| --- | --- |
| Item | UV01 |
| Brand & Model: | High power UV LED 365nm-1W |
| LED Lifespan: | Above 20,000 hours |
| Power Source | 1*AAA Dry Battery |
| Input Voltage | 0.8-2.0V |
| Burn Time | High light-1 hours |
| Material | Made of durable aircraft-grade aluminum T6061 |
| Treatment | Anodized finish |
| Exterior Color | Black & Purple |
| Reflector | Vacuum coated aluminum optical reflector |
| Lens | Tempering optical lens |
| Switch | Mechanical revolving head switch |
| Construction | Waterproof to IPX8 standard |
| Size(cm) | 7.0(length) *1.5 (head diameter) |
| Weight(g) | 12.3(excluding batteries) |
| Anti dropping height: | 1.5m |
FEATURES:
1.UV01 is an ultra-portable mini UV flashlight working with 1*AAA battery.
2.With the keychain, it is convenient for carrying.
3.UV01 has multiple uses as below:
◆ Counterfeit and banknotes distinguishing
◆ Fluorescent agents in various clothes and commodities detection
◆ Fluorescent reflection of special materials
THNICAL PARAMETERS:
Power of LED: high power UV LED 365nm LED Lifespan: above 10,000 hours
Input Voltage: 0.8-2.0V Output Level: one modes (Always light) Chip characteristics: Constant current circuit chip which maintains constant brightness
Power Source: 1*AAA Burn Time: high light-1 hour
Size(cm): 7.0(length) *1.5 (head diameter)
Weight(g): 12.3(excluding batteries)
Switch: mechanical revolving head switch
Material: aluminum T6061
Reflector: High temperature vacuum coated aluminum mirror reflector
Lens: tempering optical lens
Treatment: anodization
Waterproof: IPX-8
Anti dropping height: 1.5 m
Color: purple, black
PACKAGE: keychain, O-ring, Gift box(Excluding AAA dry battery)
Voluntary purchase accessories: UV protective glasses
Mini UV Flashlight 365nm Powered By 1*AAA battery
New Collection
#Bath&Body
Looking for bath products? We are here to help. From scrubs to tanners to shaving lotion, our body products offer the best in pampering luxury.
Shop Now