Product Details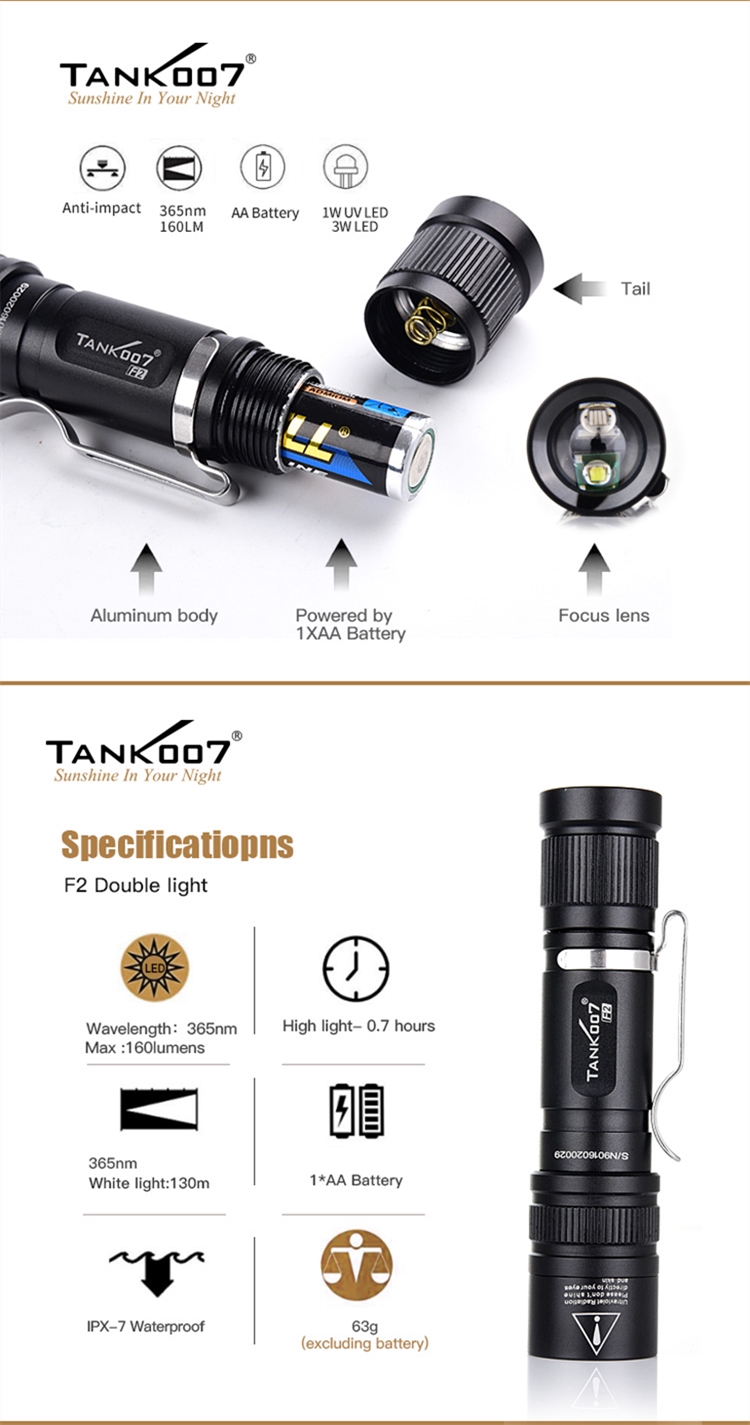 FEATURES:
1. F2 is flashlight that features a portable lighting and fluorescence detecting zoom flashlight. It can both concentrate light to light far distance and cover large space with flood light.
2. Small size with metal pocket clip, easy to carry.
3. Powered by one 1.5v AA batter or NI-MH battery, which are easy to get
4.Application fields include but not limited to:
◆ Counterfeit and banknotes distinguishing
◆ Fluorescent agents in various clothes and commodities detection
◆ Fluorescent reflection of special materials detection
Technical Specifications
(1) LED specifications
| | |
| --- | --- |
| White Light | UV LED |
| LED:High power 3W LED LED life:more than 50,000 hours Max brightness:160lumens Max beam distance:130m | Power:high power 1W UV LED Wavelength:365nm LED Life:10,000 hours |
(2) CIRCUIT SPECIFICATIONS:
Input Voltage: 0.8-3.0V
Modes:Two modes(White light LED and UV LED)
Circuit: Constant current chip, stable brightness
(3) BATTERY SPECIFICATIONS:
Power Source: 1*AA alkaline or NI-MH battery (Note:DO NOT use li-ion battery) Burn Time: 0.7hours
(4) PHYSICAL SPECIFICATIONS: Size(cm): 10.6(length)* 2.09(body diameter) * 2.43(head diameter)
Weight(g): 63 (excluding battery)
Switch: end click switch Material: aluminum T6061
Lens: Optical convex lens
Treatment: anodized treatment
Waterproof: IPX-7
Anti dropping height: 1.5 m Color: black
ACCESSORIES: Accessories: pen clip, O-ring
Voluntary purchase accessories: UV protective glasses, battery
Double LED F2 Lighting & Fluorescence Detector Zoom Flashlight
New Collection
#Bath&Body
Looking for bath products? We are here to help. From scrubs to tanners to shaving lotion, our body products offer the best in pampering luxury.
Shop Now